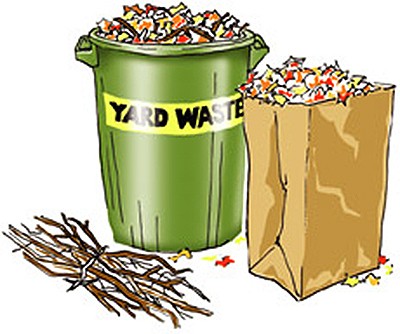 Have your lawn waste at the curb by
7:00 am on Monday and Friday to ensure that is picked up
**BROWN PAPER LAWN WASTE BAGS ARE ACCEPTABLE**
ORDINANCE NO. 110810B
AN ORDINANCE AMENDING THE CODE OF ORDINANCE OF THE VILLAGE OF ASHTON, ILLINOIS
Chapter 54 - solid waste
LANDSCAPE WASTE COLLECTION ORDINANCE
Article II
GARBAGE AND REFUSE
SECTION 54 - 34
WHERAS, the Village Board of Trustees of the Village of Ashton, Lee County, Illinois, have deemed it appropriate to establish a Landscape Debris Collection Policy and to create Article II, Garbage and Refuse, Section 54 - 34.
NOW THEREFORE, BE IT ORDAINED, by the Village of Ashton Code of Ordinance be amended as follows:
Chapter 54
Solid Waste

A. Article II Garbage and Refuse. Section 54-34
a) The Village of Ashton shall collect landscape debris on Monday and Friday of each week which schedule from time to time may be amended without ordinance by Village Resolution; provided that the material is properly placed for collection as hereafter set forth.
b) Landscape debris is defined as: leaves, grass clippings, small branches and brush tied in bundles of five feet (5') in length or less and not exceeding fifty pounds, plants and other organic materials which would normally be associated with residential gardens together with shrub and bushes from a typical parcel of residential property.
**BROWN PAPER LAWN WASTE BAGS ARE ACCEPTABLE**
c) Landscape debris shall be placed in clear bags, if not bundled as described hereinabove. Except that small branches may be placed in cans of 30 gallons or less. All bags, cans, and/or bundles must be placed at the front curb for pick up. In no event shall any landscape debris be placed for collection if mixed with other solid waste. In no event shall any landscape debris be placed for collection in any single bag, can and/or bundle weighs in excess of 50 lbs. Any landscape waste which is mixed with solid waste or is in excess of 50 lbs will not be disposed of by the City and in addition, any violator will be subject to fines and penalties as provided in the general penalty of description in the Municipal Code.
d) Any accumulation of landscape debris on any particular pick up day in excess of one Village truck (one ton truck) will be assessed an additional $25.00 charge per load. Arrangements for such pick up must be made in advance together with payment therefore. In the alternative, the Village of Ashton will provide for a truck to be dropped off to be loaded by the Village resident and thereafter dumped by a Village employee at no charge. Any such request must be made to the Village Clerk at least 7 days before the requested drop off. Delivery of the truck and scheduling thereof are subject to availability; Village obligations' and other requests. Village reserves the right and may reasonably deny any such request.
**BROWN PAPER LAWN WASTE BAGS ARE ACCEPTABLE**

CLICK HERE TO READ THE OFFICIAL LANDSCAPE WASTE COLLECTION ORDINANCE IN A WORD (.doc) FORMAT
CLICK HERE TO READ THE OFFICIAL LANDSCAPE WASTE COLLECTION ORDINANCE IN AN ADOBE READER (.pdf) FORMAT
Back to the top of the Official Website for Ashton, IL
---