AshtonUSA is The Official Website for Ashton Illinois in Lee County, IL!
Click here to visit our new Facebook page!
Click here to view AshtonUSA Facebook posts



Click on the above picture to learn more
The Ashton Park Committee is excited to host out 1st Annual Fall Festival that is sure to be an afternoon of FUN for the whole family!!
October 9, 2016 at the Mills & Petrie Building in Ashton, IL
With booths from many of our local businesses, featuring make-and-take crafts, games, food, pumpkin painting, face painting, Fireman's Smokehouse and more!
Learn more about Ashton Fall Festival by clicking here
IMPORTANT ANNOUNCEMENT
In Ashton IL
The Village of Ashton has now added a drop box for water bills, etc., on the west side of the building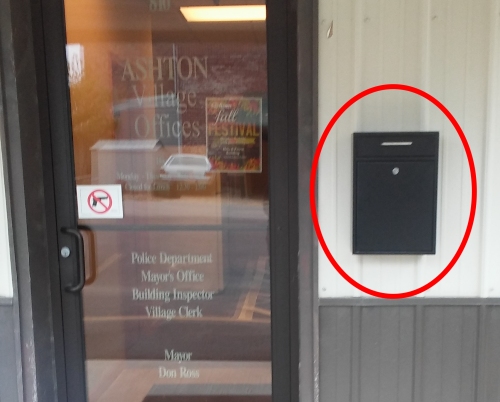 Officials will accept water bills at the village office and at PO Box 186
First National Bank no longer accepts these bills
The next water bills go out on the first of October
It will include a survey all water users must return with their payments
---
Job Opening
Street Superintendent for the Village of Ashton
Please drop off resumes at 810 Main St Ashton IL 61006 or send resumes to PO Box 186 Ashton IL 61006
Deadline for resumes is September 30th, 2016
If you have any questions you can call the village office at 815-453-2241 Monday thru Thursday from 8:00 am-4:30 pm
---
PUBLIC NOTICE FOR ASHTON, IL
Election Information for the Consolidated Elections in Ashton, IL
April 4, 2017
Positions for Ashton IL election are:
Village President - 4-year term
Village Trustee (3) 4-year term
Village Trustee-(1) 2-year unexpired term

Election packets available for pick up at Ashton Village Office from 8-4:40 Monday through Thursday
810 Main Street, Ashton IL
Please direct questions to (815) 453-2241
---
Garage Sale and Bake Sale
First Presbyterian Church
of Franklin Grove, IL
106 S. Walnut St.
October 6, 7, and 8
Thursday and Friday 8am - 4pm
Saturday 8 am - 1 pm
(in the basement)

Men's, Women's clothes and shoes (Fall and Winter)
Many racks and many sizes (many with original tags)
Fall and Winter Coats, Shoes and Boots, Socks, Hats, Purses, Jewelry
Lots of scarves
Feature Items
HUGE SELECTION CHRISTMAS DÉCOR - ornaments, gifts, garlands. And much, much more!
Large Dog Crate
Bell collection
Black Shelving, Wooden crate, Cast Iron Ashtray
Boomboxes, Nesco 18 qt. roaster, Toaster Oven, Bread Maker, Dirt Devil stick vacuum, 1 ½ qt. Crock Pot
Low profile ironing board
Hundreds of paperbacks and hardbacks for all ages
Lots of especially nice toys
100's of VHS tapes
Miscellaneous
Fall and Winter decorations Kitchen and household items
Glassware, sets of dishes Yarn and material, batting
Linens, throws , bedding Craft items, craft books and mags.
King sized sheet sets Puzzles
Punch bowls Picture frames
BAKE SALE and Refreshments will be available.
Many more items will arrive as this exciting sale draws nearer!
---
Click here to see the AFC Calendar at a Glance

---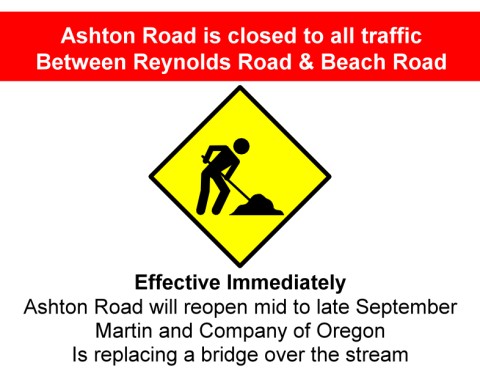 Ashton Road Closed
Starting Monday afternoon July 11th
Ashton Road will be closed to all traffic between Reynolds Road and Beach Road
U ntil sometime in mid to late September
Martin and Company of Oregon is replacing a bridge over the stream

---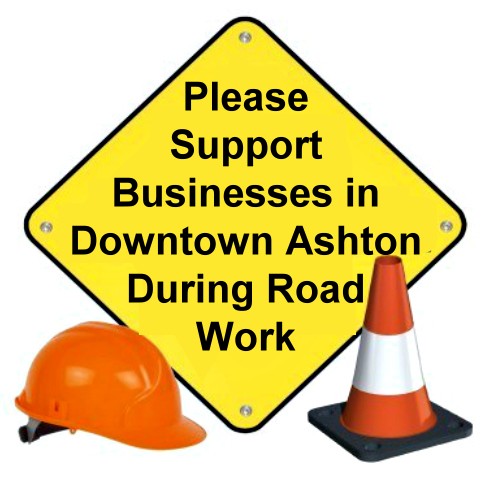 ---
Village of Ashton IL
PO Box 186
810 Main Street
Ashton IL 61006
Ashton Illinois is in Lee County, IL
Back to the top of the Official Website for Ashton, IL
---
Ashton Illinois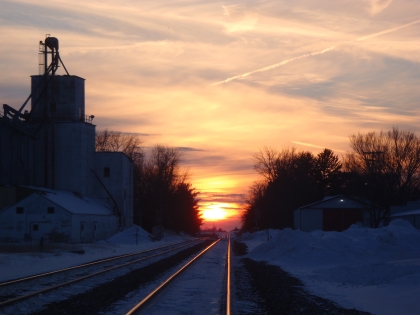 Click on the above picture to view a larger image
Picture courtesy of Eric Hetzler, Ashton Computer Center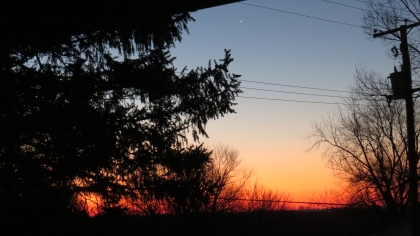 Click on the above picture to view a larger image
Picture courtesy of Teresa S.

Click on the above picture to view a larger image
Picture courtesy of Teresa S.
Back to the top of the Official Website for Ashton, IL
Want to be a contributor by submitting pictures or event information for Ashton Illinois and the surrounding Lee County Illinois area? Great! Just contact us and we will add you to our list of guest editors. Send an email to lynn@ashtonusa.com or call Ashton Computer Center at 815-453-7717.
Back to the top of the Official Website for Ashton, IL
---
Check here often for up-to-date information on Ashton Illinois community events in and around Ashton Illinois.
Got questions or comments? Contact Lynn at Ashton Computer Center
815-453-7717
lynn@ashtonusa.com